At our 2019 Bodhrán summer school, we ran our first charity event in aid of Focus Ireland which do amazing work for the homeless community in Ireland. We raffled off a Bodhrán designed by our good friend and incredible bodhrán maker, Rob Forkner. The raffle raised €3,470!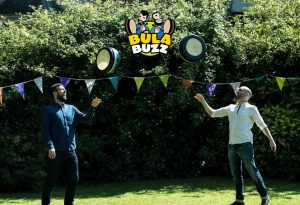 In April 2020, Covid 19 forced so many people into self isolation and countries into lockdown.  We wanted to help keep the Bodhrán community together and give people a way to connect each week.  We decided to organise six interactive workshops which streamed live and free from our Facebook page. Through these six streams with Eamon Murray, Cormac Byrne, Donnchadh Gough, Niamh Fennell and Colm Phelan we were able to bring bodhrán enthusiasts together and made charity donations available to four of our chosen charities. Over the course of the six weeks we raised a total of €6,194!
We were delighted to present each of the charities with the following:
In July 2020, Búla Buzz 'moooved' their summer school online for the first time ever due to Covid 19. After the successful fundraiser for Focus Ireland at our previous summer school, we decided to host another Bodhrán raffle with Rob Forkner of Metloef Drums. This raffle raised a massive €4,700 for the Irish Hospice foundation.
In the space of 12 months, through the various charity events organised by Búla Buzz and thanks to the support of the Bodhrán community, friends and family, we are very proud to have raised €14,364 for various charities.
Thank you for supporting our work, we couldn't do it without you.