This year we have some of the best Bodhrán players on this planet teaching at Búla Buzz. Why not sign up now to get a chance to learn from Robbie Walsh, Colm Phelan, Eamon Murray, Jim Higgins, Tommy Hayes and Martin O Neill. Concerts also by Siobhan O Donnell & Kieran Munnelly on Tuesday 16th of July and by Goitse which features Colm Phelan on Thursday the 18th of July.
Eamon Murray
We are delighted that Eamon Murray will be a guest tutor at this year's summer school. He is a founding member of the super group Beoga who most recently collaborated with Ed Sheeran on 'Galway Girl' and 'Nancy Mulligan'. He also performed with the group on the main stage of Glastonbury to over 90,000 fans. He has been at the fore front of Bodhran playing for over 15 years and is a four time All Ireland Bodhran champion.
Colm Phelan
"Colm Phelan is one of Ireland's leading young percussionists, and an exceptional Bodhrán player, providing new dimensions to the voice instrument" – Niall Keegan, Course Director, BA Irish Music and Dance.
Colm is a winner of numerous All Ireland Fleadh's down through the years along with being the first ever 'World Bodhrán Champion', in Miltown, Co Kerry in 2006. He went on to study Irish Music and Dance at the Irish World Academy of Music and Dance, University of Limerick and in 2011 graudated with a Bachelor of Arts .In 2012, he released a solo Bodhrán CD called "Full Circle" which got rave reviews and was described by Irish Music Magazine as "going where no Bodhrán player has gone before". 
In 2015, he went back to university to enhance his knowledge of the frame drum and graduated with a MA in Irish Music Performance from the University of Limerick in 2016. Colm performs regularly around Europe and North America with his multi award winning group Goitse.
Discography:
Full Circle – Colm Phelan
All In a Day's Play – Conor Moriarty
Inspired By Chance – Goitse
Tall Tales and Misadventures – Goitse
Transformed – Goitse
Goitse– Goitse
Robbie Walsh
Robbie Walsh is a bodhrán player who hails from Dublin. Brought up through a strong musical background in all genres, his style is the definition of diversity. Inspired by the fantastic playing of his uncle, Robbie began to learn the ropes from the great Noel Dowling of Kilkenny in what he feels is his second home Áras Chrónáin. Taking these skills to the vibrant session culture throughout Dublin Robbie began to shape his style.
In 2008 Robbie became the Dublin, Leinster and All Ireland Champion thereby opening him up to further opportunities. He has played with various different bands including Ciorras, Coras, The Hunters, Keeva, Blasta and The Jeremiahs. He is also currently working with bands such as Perfect Friction FourWinds and the Temple Bar All Stars and The Daoirí Farrell Band of which he is a co founding member of all. He has also worked closely with dance shows and companies such as Celtic Céilí, Celtic Legends and Damhsa to entertain and teach audiences at theatres, festivals and corporate functions stretching as far as the United States and the Middle East. 
Robbie has also worked on albums with musicians such as Daoiri Farrell, Alan Doherty, Laoise Kelly, Gerry O'Donnell, Tom Walsh, Seamus Begley, Joe McKenna, Paul Kelly, Eleanor Shanley, Brendan Hayes, Colin Farrell and Frankie Lane and Michael McGoldrick to name but a few, and has shared the stage with the likes of Donal Lunny, Karen Tweed, Cormac Breathnach, Gerry O'Connor, The Chieftans, Antonio Beresky and Paul Brady.
With such a gathering of experience throughout his musical career Robbie set up The Bodhran Buzz to further extend the knowledge of the bodhrán throughout the world via workshops, private teaching and regular classes and even went as far as a conducting a Guinness world record attempt for the largest bodhrán ensemble of 1,052 Bódhran players. 
Discography (not complete):
The First Turn – Daoiri Farrell
Fair Play – Perfect Friction
Timing is everything – Siobhan Smith
Snowbound – Skelig
A visit to Ireland – Brendan Hayes
Screwed – Loose
Live – Loose
Jim Higgins
His bodhran playing is full of baselines and very supportive for the tunes. No wonder he is in high demand as a live and studio artist. He is featured on the recent Altan and Lunasa recordings and many other studio albums, incl. Cora and Breda Smyth (Jim's wife), Kevin Crawford, Alan Kelly and Josephine Marsh. He also toured with the famous dance show "Riverdance". He works as an arranger and producer and produced albums for the Sawdoctors and Reeltime.
Discography (not complete):
Local Ground – Altan
Red Wood – Lunasa
Down the line – Ciaran Tourish
In Good Company – Kevin Crawford
Out of the Blue – Alan Kelly
Cora and Breda Smyth – Cora and Breda Smyth
Martin O'Neill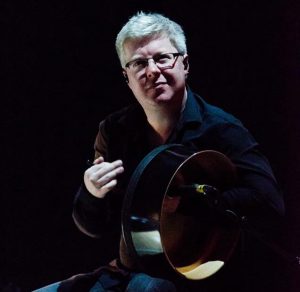 World renowned bodhrán player Martin O'Neill has taken the humble Irish frame drum to dizzying new heights, having toured with the legendary Stevie Wonder on his latest European Tour and working with musical luminaries such as Béla Fleck & The Flecktones. Over the past decade he has pushed the boundaries of bodhrán playing with his unique style and wizardry technique.
Martin has recorded on more than 60 albums, made countless TV & Radio appearances around the world and maintains a busy touring schedule in the UK, Ireland, Europe and North America.
A multi-instrumentalist, though best known for his bodhrán work, Martin has won All-Scotland, All-Britain and All-Ireland titles and is widely recognised as one of today's leading exponents of the instrument. In 2010, he was voted 'Instrumentalist of the Year' at the Scots Trad Music Awards.
Much in demand as an educator, Martin delivers workshops and masterclasses around the world. With a formal music education to degree level and with more than 17 years teaching experience, Martin is able to offer a great insight into the physical and technical aspects of learning the bodhrán.
Just a few of the artists Martin has worked with include Stevie Wonder, Béla Fleck & The Flecktones, Julie Fowlis, Danú, Fred Morrison and Treacherous Orchestra.
"Bodhrán players can do star solo spots – as the much-in-demand Martin O'Neill illustrated by incorporating jazz drummer-style brush work, walking basslines and intricately rhythmic melodies into one impressive fantasia. Put O'Neill together with fiddle and accordion, though and he's selfless, driving tunes with precision, imagination and an unfailing awareness of form." – Rob Adams, The Herald
Selected Discography (not complete):
Julie Fowlis – Live at Perthshire Amber
Alan Kelly Gang – The Last Bell
Ross & Ali – Symbiosis
Treacherous Orchestra – Grind
Fred Morrison Trio – Live at the Glasgow Royal Concert Hall
Caladh Nua – Next Stop
Karan Casey – Ships In The Forest
Aly Bain & Phil Cunningham – Roads Not Travelled
Hamish Napier – The River
Tommy Hayes
We are delighted to announce that Tommy Hayes will be a guest tutor at this years Búla Buzz. We are incredibly lucky to have him on board and are so happy to give you all the opportunity to pick his brains and learn some valuable tips from one of the pillars of our Bodhrán community. He is well renown for being a member of the legendary group 'Stockton's Wing.
Special Bodhrán workshops + more teachers to be announced soon for 2019.